ETF of the Day: iShares Core High Dividend ETF (HDV)
With more than 2,000 U.S.-listed ETFs available to investors, it's easy to get confused and overwhelmed with the sheer number of choices. And with so many options, how do you know what's good and what isn't? In this space, I'm going to evaluate and rate a popular ETF to help you make smarter investing decisions.
If you want to receive these reports when they're published, click that "Follow" button on my profile. Do you have an ETF you want profiled? Comment down below!
Today's ETF is the iShares Core High Dividend ETF (HDV).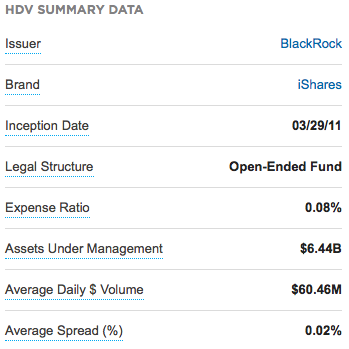 For a fund that has more than $6 billion in assets, is run by one of the biggest ETF issuers in the business and is one of the cheapest dividend ETFs around, it feels to me like HDV is still a little under the radar. Like many ETFs that have focused on dividend yield and quality over the past couple of years, HDV has trailed the S&P 500, but it's been staging quite a comeback over the second half of 2018. Value, yield and quality have come back in vogue, which is exactly why HDV belongs back on your watchlist.
ETF Website: iShares Core High Dividend ETF
In a vast universe of dividend ETFs, HDV uses a somewhat unique strategy. To identify companies that it deems financially healthy, HDV looks at two metrics from Morningstar, the Distance to Default measure and the Economic Moat rating. Distance to Default is just what it sounds like. It looks for companies with strong balance sheets examining factors, such as enterprise value, profitability, cash flows and debt. An economic moat is a sustainable competitive advantage a company maintains which allows them to generate above average sales and profits for an extended period of time.
In order to qualify for HDV, constituents must have an Economic Moat rating of "narrow" or "wide" and have a Distance to Default rating in the top 50% of eligible dividend-paying companies within its sector. Also, dividends must be qualified, which means REITs are out. The top 75 highest-yielding stocks from this universe make it into HDV's portfolio. Another twist comes from HDV's weighting methodology. Instead of weighting by yield, HDV weights by total dividends paid. This tends to skew the portfolio more towards large-cap companies.
Looking at a factor box analysis of HDV, the fund obviously demonstrates a strong dividend yield tilt, but it also has a strong low volatility tilt. It also displays a modest tilt towards value, so this is more or less your stereotypical conservative equity ETF.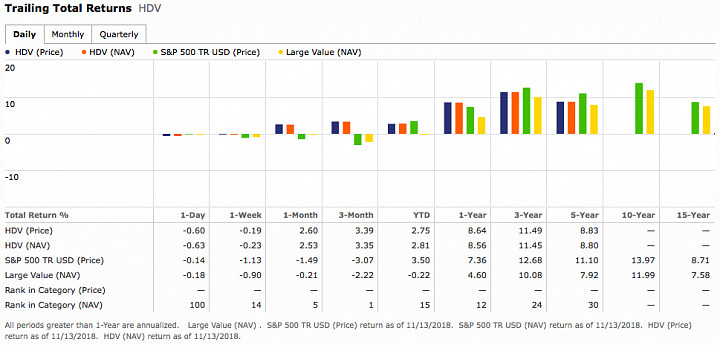 HDV really struggled out of the gate in its first full year, but hit its stride starting in 2014. While there have been a few hiccups along the way, HDV has ranked in the top one-third of funds in Morningstar's Large Value category over the past one-, three- and five-year periods.
One of the things I like about HDV is its attempt to combine pure high yield with quality. Its 3.3% yield qualifies as well above average, but its screens for financial health and sustainability help ensure that you're not venturing too far out on the risk spectrum in order to achieve that yield. Looking at comparable ETFs, the Vanguard High Dividend Yield ETF (VYM) looks almost solely at forecasted 12-month dividend yield, while the SPDR Portfolio S&P 500 High Dividend ETF (SPYD) looks entirely at the trailing 12-month dividend yield. Other funds, such as the Schwab U.S. Dividend Equity ETF (SCHD) and the Invesco S&P 500 High Dividend Low Volatility ETF (SPHD), also combine elements of both the yield and quality factors.
Recommendation: Consider buying
When talking with readers, I get the sense that their favorite dividend ETFs are the Vanguard Dividend Appreciation ETF (VIG), the iShares Select Dividend ETF (DVY) and the iShares Core Dividend Growth ETF (DGRO) along with VYM, SCHD and SPHD (in some order). I rarely hear HDV mentioned as a top choice, which is a little surprising considering that it offers high yield and low volatility (two factors which are frequently favored by dividend seekers) along with a strong track record and an ultra-cheap expense ratio. It checks all the major boxes.
In the ETF Power Rankings I offer subscribers of my paid service over on Seeking Alpha, I have HDV ranked #6 overall in the dividend ETF category and ahead of both DVY and SPHD, so it definitely belongs in the upper tier. If value continues to outpace growth as it has over the past six months or investors begin seeking safer alternatives in an increasingly volatile equity market, HDV would make for a good landing spot.
What do you think of HDV? Comment down below!