ETF of the Day: Global X SuperDividend ETF (SDIV)
With more than 2,000 U.S.-listed ETFs available to investors, it's easy to get confused and overwhelmed with the sheer number of choices. And with so many options, how do you know what's good and what isn't? In this space, I'm going to evaluate and rate a popular ETF to help you make smarter investing decisions.
If you want to receive these reports when they're published, click that "Follow" button on my profile. Do you have an ETF you want profiled? Comment down below!
Today's ETF is the Global X SuperDividend ETF (SDIV).
Interest rates have finally come off of near-zero levels to the point where cash and safe investments are now legitimate alternatives. The yield on the 10-year Treasury is still narrowly more than 3%, while ultra-safe bond ETFs offer yields in the 2-3% range. The S&P 500 also yields 2%. But for those regular income from their portfolios, that might not be enough. Enter SDIV, which goes after the highest yielders around the world.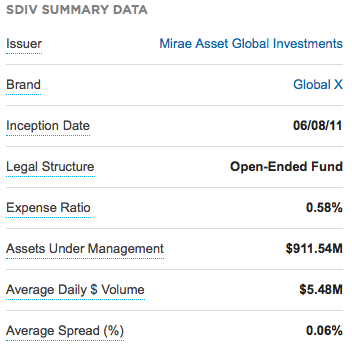 ETF Website: Global X SuperDividend ETF

SDIV is benchmarked to the Solactive Global SuperDividend Index, which tracks the performance of 100 equally-weighted companies that rank among the highest dividend yielding equity securities in the world. To find those 100 names, the index pretty much has carte blanche. It can invest in the United States or developed and emerging markets around the world. REITs, MLPs and other typically high yielding securities are all fair game.
The good news first. If you're a yield seeker, this fund may be right up your alley. The current 30-day yield on SDIV is 9.5%, which is about as high as its ever been over its 7+ year history (historically, the fund's dividend yield has often hovered around the 7% mark). Plus, SDIV pays out dividends on a monthly basis making it ideal for those who want a regular paycheck.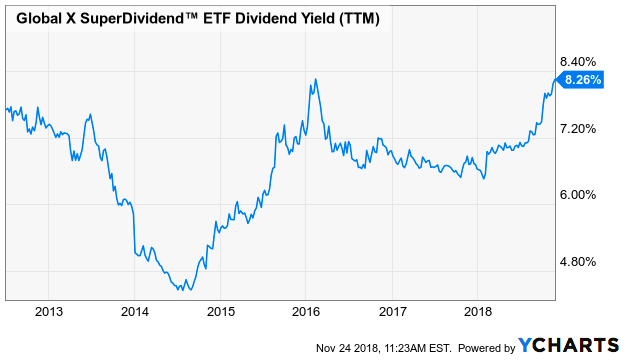 Now, the cautionary disclosure. Not surprisingly, SDIV is fairly concentrated in a few sectors and doesn't represent a diversified portfolio. More than half of the portfolio is invested in interest rate sensitive REITs.

The sector concentration and nearly 50% allocation to overseas markets makes it an especially risky bet if you're simply looking to maximize your portfolio yield, but perhaps the greater threat to investors is the risk of yield chasing itself. Simply targeting the highest yielding securities gives no regard to a company's quality, balance sheet health, cash flows or any other measure to help determine if the yield is sustainable.
Take, for instance, this graphic that looks at the credit quality of the fund's underlying holdings.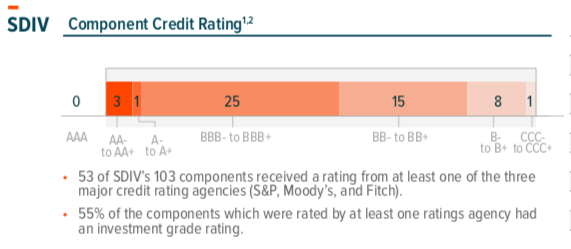 Just half of SDIV's holdings have a rating from one of the three major agencies (the international holdings account for most of the unrated securities). Of those that are rated, nearly half fall into the junk category, some deep into junk territory. What does that mean? A lot of these high yields probably aren't sustainable. They're either at risk for a dividend cut or the result of a plunging share price probably related to their junk status.
It probably doesn't come as much of a surprise that SDIV's share price is down about 25% since its inception in 2011. Those high dividend yields have come at the expense of a significant erosion of principal. The fund has an average annual return of just over 3% since inception.
Recommendation: Probably avoid
The only way I'd ever consider investing in SDIV is as a small satellite position to take a flyer on the high yield and hope that I catch it on an improving credit cycle. Holding it as a core income-producing position just doesn't make a whole lot of sense with such a risky portfolio.
What do you think of SDIV? Comment down below!