ETF of the Day: iShares Select Dividend ETF (DVY)
With more than 2,000 U.S.-listed ETFs available to investors, it's easy to get confused and overwhelmed with the sheer number of choices. And with so many options, how do you know what's good and what isn't? In this space, I'm going to evaluate and rate a popular ETF to help you make smarter investing decisions.
If you want to receive these reports when they're published, click that "Follow" button on my profile. Do you have an ETF you want profiled? Comment down below!
Today's ETF is the iShares Select Dividend ETF (DVY).
DVY is the third-largest dividend-focused ETF behind only the Vanguard Dividend Appreciation ETF (VIG) and the Vanguard High Dividend Yield ETF (VYM). It's become a favorite among dividend seekers because few funds have compiled as impressive a record as this one. It's ranked in the top one-third of Morningstar's Large Value category in each of the past five years. Its focus on dividend sustainability and high yield has served shareholders well, although there are a couple of things to watch out for.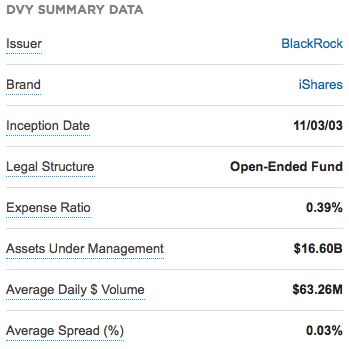 ETF Website: iShares Select Dividend ETF
DVY tracks the Dow Jones U.S. Select Dividend Index, which targets the 100 highest-yielding stocks from a universe that consists of companies with lengthy histories of dividend growth and financial health. In order to qualify for the index, stocks must have:
a non- negative historical five-year dividend- per-share growth rate
a five-year average dividend coverage ratio of greater than or equal to 167%
a three-month average daily trading volume of 200,000 shares
paid dividends in each of the previous five years
a non-negative trailing 12 month earnings-per-share ("EPS")
a float-adjusted market cap of at least $3 billion ($750 million for current constituents)
The 100 stocks with the highest indicated 12-month dividend yield qualify for the index with the overall portfolio getting dividend-weighted. This criteria produces a portfolio that is strongly value- and low volatility-oriented with an emphasis on above average dividend yields.
The fund's current dividend yield of 3.6% places it well above that of the S&P 500 and even above other highly-rated dividend ETFs that focus on balance sheet health, such as the Schwab U.S. Dividend Equity ETF (SCHD). While dividend growth isn't necessarily a goal of the fund, it is a pleasant consequence. Over the past decade, DVY has averaged dividend growth of 5.4% annually while posting increases for 8 consecutive years.
On the downside, DVY will never be accused of being a cheap fund. In a segment of the market where the strongest competitors all charge 0.08% or less, DVY charges an unusually high 0.39%. Historically, shareholders have been more than compensated for the extra cost they're paying, but keep in mind that DVY will need to outperform the likes of VIG, VYM and SCHD by 0.3% annually in order to just keep pace on an after-cost basis. It's also worth noting that roughly 1/3 of the portfolio is currently invested in utilities with another 25% going to energy and consumer discretionary names. Certain types of investors may not find this type of asset allocation palatable despite the high yield.
Recommendation: Consider buying
While the expense ratio is on the high side and the asset allocation makes a few significant sector bets, DVY gets the green light from me due to its relatively conservative dividend sustainability objective and strong track record. Investors should feel comfortable making DVY either a core component of their portfolio or a satellite holding capable of boosting portfolio yield.
What do you think of DVY? Comment down below!