ETF of the Day: ARK Innovation ETF (ARKK)
With more than 2,000 U.S.-listed ETFs available to investors, it's easy to get confused and overwhelmed with the sheer number of choices. And with so many options, how do you know what's good and what isn't? In this space, I'm going to evaluate and rate a popular ETF to help you make smarter investing decisions.
If you want to receive these reports when they're published, click that "Follow" button on my profile. Do you have an ETF you want profiled? Comment down below!
Today's ETF is the ARK Innovation ETF (ARKK).
In an industry that's been dominated by the mass migration to low cost index ETFs, there are still some actively managed funds that are delivering market-beating returns. In the case of ARKK, it's not just a matter of THAT it's beating the market, but how significantly it's doing it. ARKK spent the first two and a half years of its life in relative obscurity with nothing much to show for it in the way of returns. Then, 2017 blew the doors off. Its next generation technology thematic approach returned 87%, beating the S&P 500 by more than 65%. 2018 has been a similar story. ARKK is up 15% year-to-date compared to a 3% return for the S&P 500. Total assets for the fund, which started 2017 at a mere $12 million, have ballooned to nearly $1.3 billion today.
For high tech investors, this is a dream ETF, but be prepared for a wild ride.
ETF Website: ARK Innovation ETF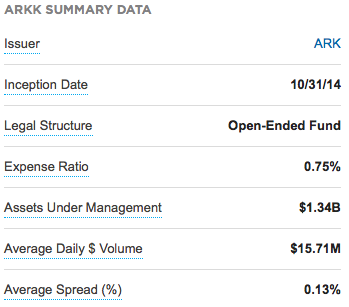 As mentioned, ARKK is an actively managed fund that focuses on four major themes - the genomic revolution, industrial innovation, the next generation internet and fintech innovation. This can include sub-themes, such as genomic sequencing, bioinformatics, robotics, artificial intelligence, cloud computing, machine learning, cybersecurity, payment platforms and cryptocurrencies. As long as a company is capitalizing one of these themes, ARKK has the ability to invest in it.
One of ARK's most successful bets last year was on bitcoin. The fund invested in the Bitcoin Investment Trust (GBTC) riding it to massive gains in 2017 before trimming its position as it began to correct. 2017's gains were also thanks to outsized positions in several FANG stocks. The fund's stellar year earned it the title of "ETF of the Year" from ETF.com.
Today, the fund is making big bets on healthcare, particularly genomics, as well as future tech.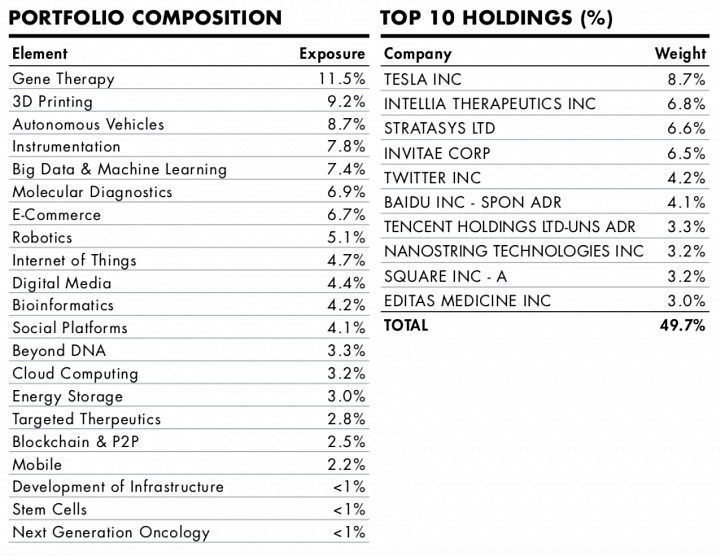 Tesla (TSLA) is, perhaps not surprisingly, the fund's top holding. ARK CIO Cathie Wood actually made a few waves recently when she went on record saying Tesla could be valued as high as $4000 per share in five years. That's obviously a big endorsement of the autonomous vehicle industry, but Wood and team's ability to correctly identify value in rapid developing tech is noteworthy.
The big risk in investing in ARKK is its inherent volatility. Using the standard deviation of historical returns, ARKK has been roughly twice as volatile as the S&P 500. That's not necessarily a bad thing when you've got a market like 2017 where equities made a slow and steady climb for most of the year. That can be more problematic when investors are taking risk off of their portfolios. In October when the market briefly touched correction territory by dropping 10% from its highs, ARKK dipped 21%. Obviously, the upside here is high, but the downside risk is also significant.
Recommendation: Cautiously consider buying
ARKK is not for the faint of heart. If you're considering adding it to your portfolio, you probably only want to consider doing it with a small portion of your portfolio, maybe 5% or so. On the plus side, Cathie Wood and her team have proven for a while to be very talented and very able to pick winners, so this fund would be an ideal candidate for trying to generate alpha in your portfolio. On the downside, how it performs during a deeper market pullback is still unknown, but it figures to be pretty bad. This has turned into a very solid fund, but make sure you're comfortable with the potential downside.
What do you think of ARKK? Comment down below!