3 ETFs to Buy, 1 to Avoid
Buy:
Deep Value ETF (DVP)
With S&P 500 earnings expected to contract in Q1 and the index up 15% year-to-date, valuations are beginning to get stretched once again. The forward P/E is back up to 18 leaving precious little room for error should companies begin missing expectations. DVP looks for companies that have positive earnings and returns on invested capital, generate free cash flow, and currently pay a dividend. The 20 companies that are judged to be the most undervalued make the index. It has a P/E of just 10 and includes names like Viacom, Western Digital and Macy's.
Value has been out of favor for some time but investors are eventually going to need to come back to it as a potential recession nears and earnings growth slows to a crawl.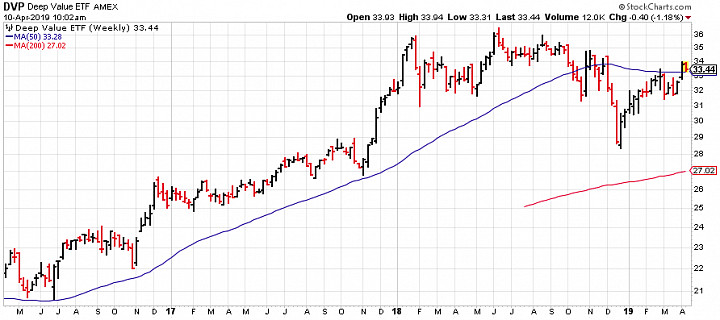 Pacer U.S. Cash Cows 100 ETF (COWZ)
COWZ targets companies with the highest free cash flow yields. Historically, these companies have produced the greatest returns over the long-term although they haven't performed comparatively well lately. This fund is a nice defensive play with a quality tilt as the valuation spread between growth and value widens.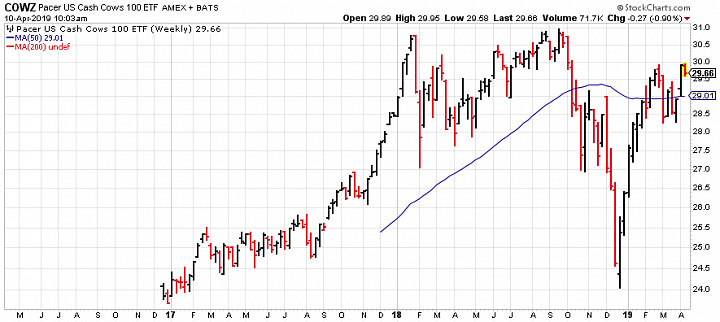 SPDR S&P Bank ETF (KBE)
Q1 earnings kick off this week with the big banks reporting later this week and into next week. While not expected to be as bad as the S&P 500, earnings growth is expected to be negative. No rate hikes from the Fed and a flatter, declining yield curve means trouble for the sector. I expect it to be out of favor for a while but this could be a case where all the bad news is already baked in. With expectations low, banks could be poised to pop on any decent earnings-related news. Could be a buy low opportunity.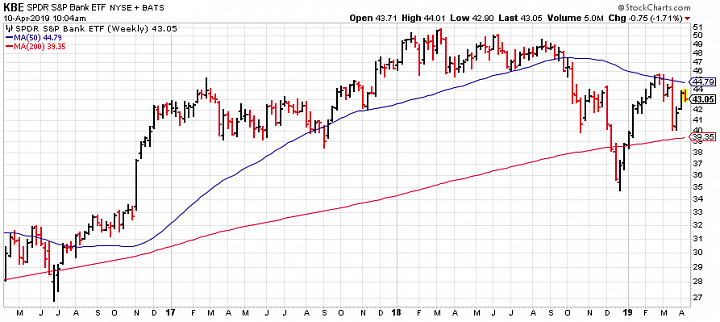 Avoid:
ETFMG Alternative Harvest ETF (MJ)
I've been long MJ for a while but I sold most of my stake in the $35-36 range. MJ has traded in a tight range over the past two months meaning the pot stock euphoria has largely dissipated. Cronos has done well this year but Tilray is down 20%. I'd avoid here, wait for some of the excess to work its way out and look to reenter back in the low $30s.