Dividend Raises & Cuts - 2/15/17 (CSCO Raise Lifts Yield to 3.5%)
The companies that announced dividend raises and cuts for 2/15/17.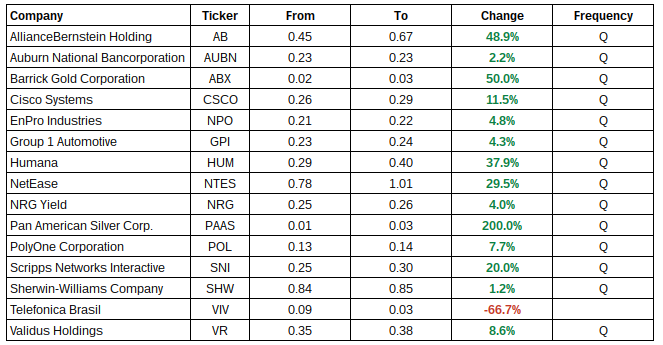 Notes…
Barrick Gold's dividend is on the rise again after the company cut it from $0.05 to $0.02 in 2015.
Cisco is becoming a solid dividend growth story. The latest raise puts the new annualized yield around 3.5%.
Strong dividend increase from Humana but the yield is still under 1%.
NetEase's dividend has nearly tripled in the past two years.
Pan American Silver is finally lifting its dividend again following three separate cuts in less than three years. The company cut the dividend from $0.13 all the way to $0.01.
Sherwin-Williams extends its dividend growth streak to 38 years!
Did any of the dividend announcements surprise or disappoint you? Post in the comments below. Requires signing in. That's easy: Just use your Facebook, Twitter, LinkedIn or StockTwits credentials.