Dividend Raises & Cuts - 2/16/17 (Coca-Cola Raises For 54th Straight Year)
The companies that announced dividend raises and cuts for 2/16/17.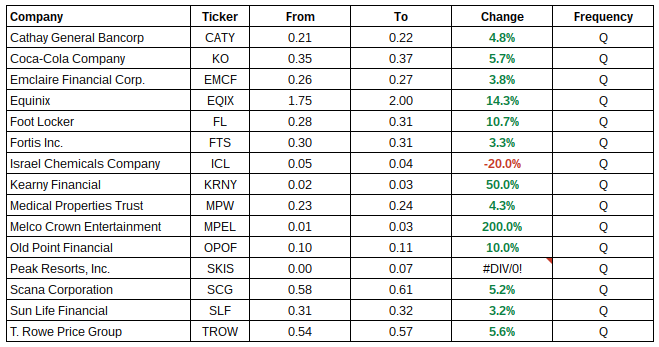 Notes…
Several long term dividend payers raising their quarterly payments again - Coca-Cola (54 years), Scana Corp (17 years) and T. Rowe Price (30 years).
Peak Resorts reinstates its dividend after eliminating it back in 2015. The company says it's now back in compliance with its debt covenants and can resume the quarterly dividend.
Cathay General was paying a $0.01 dividend as recently as four years ago having cut it to next to nothing following the financial crisis. Back up to $0.22 today.
Did any of the dividend announcements surprise or disappoint you? Post in the comments below. Requires signing in. That's easy: Just use your Facebook, Twitter, LinkedIn or StockTwits credentials.