Investors Continue Moving To Value Stocks
It looks like traders may finally be rotating over to value stocks in light of current economic troubles overseas and a trade war that shows no signs of ending soon. Since the end of June, investors have added more than $2 billion in flows to value stocks than they have to growth.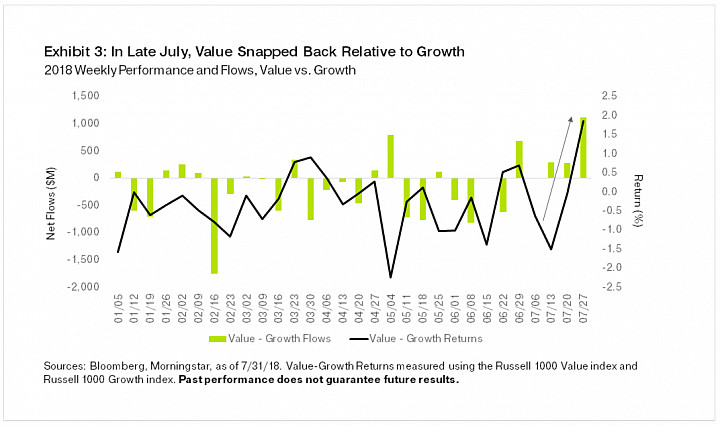 This trend has also largely coincided with the recent outperformance of value stocks relative to growth. Over the past month and a half, the Vanguard Value ETF (VTV) has outperformed the Vanguard Growth ETF (VUG) by more than 100 basis points.

I've advocated for value stocks since the beginning of the year although the story hasn't started playing out until just recently. We've also seen ETFs, such as the iShares Core Dividend Growth ETF (DGRO) and the Vanguard Dividend Appreciation ETF (VIG), start outperforming the S&P 500 as well. If value stocks continue performing relatively better, dividend and low volatility ETFs could be poised to follow suit.
Other ETFs to watch: ProShares S&P 500 Dividend Aristocrats ETF (NOBL), Invesco S&P 500 Low Volatility ETF (SPLV), Invesco S&P 500 High Dividend Low Volatility ETF (SPHD), Oppenheimer S&P Ultra Dividend Revenue ETF (RDIV), Schwab U.S. Dividend Equity ETF (SCHD)