ETF of the Day: FlexShares Quality Dividend Index ETF (QDF)
With more than 2,000 U.S.-listed ETFs available to investors, it's easy to get confused and overwhelmed with the sheer number of choices. And with so many options, how do you know what's good and what isn't? In this space, I'm going to evaluate and rate a popular ETF to help you make smarter investing decisions.
If you want to receive these reports when they're published, click that "Follow" button on my profile. Do you have an ETF you want profiled? Comment down below!
Today's ETF is the FlexShares Quality Dividend Index ETF (QDF).
QDF is the largest equity ETF in the FlexShares lineup and arguably one of its best. It uses a quantitative process that emphasizes factors, such as quality, yield, profitability and cash flows, to identify not just above average yields, but above averages yields that should be sustainable for the foreseeable future. QDF has been a holding in my personal portfolio for some time.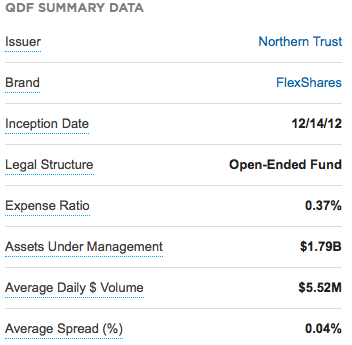 ETF Website: FlexShares Quality Dividend Index ETF
QDF tracks the Northern Trust Quality Dividend Index, which intends to reflect the performance of a basket of high quality, high yield U.S. equities that emphasize long-term capital growth while maintaining an overall volatility level similar to that of the broader market.
The index starts with the universe of dividend-paying equities and analyzes them by fundamental factors, such as profitability, management expertise and cash flow. These factors are used to generate a dividend quality score for each stock with stocks falling into the bottom quintile automatically getting eliminated from consideration. The index then follows a rules-based methodology to calculate optimal weights for eligible securities in order to produce a portfolio with high quality characteristics and an above average yield while maintaining a market-like level of risk.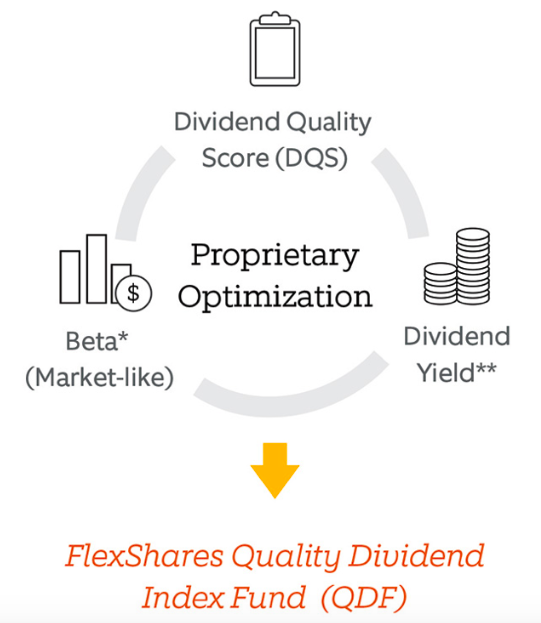 The quality factor hasn't done terribly well over the last few years. It's trailed the S&P 500 over both the past 1-year and 3-year periods and has still trailed the index in recent months despite market factors swinging more in its favor. Still, I look at the entire stock selection process here and find it smart and well-constructed. QDF is filled with companies that have strong balance sheets, healthy cash flows and sustainable dividends. As we head into 2019 and the economy looks like it could be more impacted by recessionary pressures than at any point in the last several years, tilting your portfolio towards quality and lower volatility stocks could pay big dividends, no pun intended, going forward.
QDF's expense ratio of 0.37% is acceptable but not cheap. Its 3% dividend yield is roughly around where it's typically been at over the past several years. QDF's composition is pretty similar to that of the S&P 500 while maintaining slight overweights in utilities, energy and real estate and underweights in healthcare and financials. It also has a somewhat larger allocation to mid-caps.
Recommendation: Consider buying
Like I mentioned up top, I've owned QDF in my own portfolio for a while, so it gets a thumbs up from me. There are several options in the quality dividend growth category, including the WisdomTree U.S. Quality Dividend Growth ETF (DGRW) and the ProShares S&P 500 Dividend Aristocrats ETF (NOBL). Other choices, such as the Vanguard Dividend Appreciation ETF (VIG), will come cheaper, but I think QDF's well thought out, quantitatively-driven index construction methodology makes it well worthy of consideration.
What do you think of QDF? Comment down below!