Schwab Eliminates Trading Fees; TD Ameritrade Follows; E-Trade And Fidelity Next?
Schwab (SCHW) shook up the brokerage industry earlier this week by announcing that it was going commission-free on its trading platform. Predictably, traders didn't take the news well.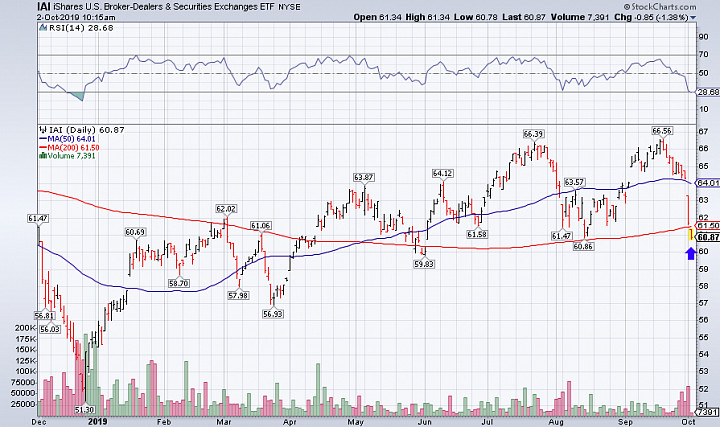 The Broker-Dealer ETF (IAI) is down nearly 6% but the online brokerages are faring even worse. Losses of at least 10% over the past couple trading days are a given while the pure trading platforms like E-Trade (ETFC) and TD Ameritrade (AMTD) are getting absolutely hammered.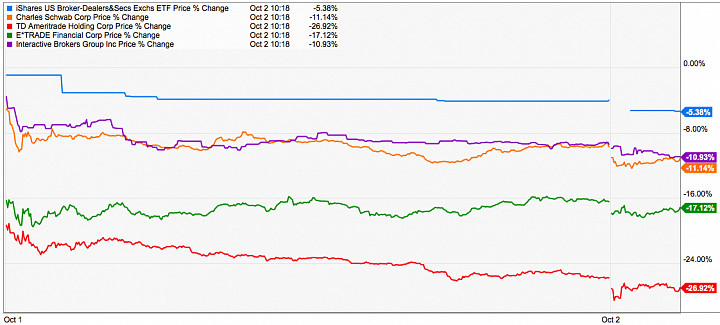 We knew the industry was probably going commission-free eventually. Robinhood charged no trading fees since its inception in 2013. Vanguard announced no fees on virtually all ETFs earlier this year. JP Morgan Chase (JPM) has its own free trading app. The big ETF providers have been slashing expense ratios to near nothing for years with a couple now offering 0% expense ratios altogether. This was the way it was always going but Schwab's move still caught the industry off-guard (although it was Interactive Brokers' (IBKR) introduction of its own zero commission service last week that really kicked things off).
TD Ameritrade followed suit hours later in eliminating fees. The company pretty much had no choice. In this industry, it's pretty much go ultra-cheap or risk becoming obsolete. AMTD anticipates a 15% drop in revenue. Schwab's revenue hit is only expected to be 3-4% thanks to a diverse ETF and money management business. Not a good sign for TD Ameritrade's future.
E-Trade hasn't announced a cut to its own fee structure but I'd imagine it's both imminent and inevitable. Perhaps the bigger question is if Fidelity will follow. I imagine the answer to this question is yes. Fidelity manages more assets than any other money manager in the world but its revenue pipeline still relies on trading commissions quite a bit. The financial hit will likely land somewhere between Schwab's and TD Ameritrade's but Fidelity has already launched a series of 0% mutual funds so it's hard to imagine that they wouldn't be willing to cut to zero on this too.
Either way, the entire brokerage industry is in trouble. The race to zero will probably eventually lead to a handful of giants, a few niche players and very little in-between.
What do you think of the accelerating race to cut fees to nothing? Feel free to comment down below!