ETF of the Day: InfraCap MLP ETF (AMZA)
With more than 2,000 U.S.-listed ETFs available to investors, it's easy to get confused and overwhelmed with the sheer number of choices. And with so many options, how do you know what's good and what isn't? In this space, I'm going to evaluate and rate a popular ETF to help you make smarter investing decisions.
If you want to receive these reports when they're published, click that "Follow" button on my profile. Do you have an ETF you want profiled? Comment down below!
Today's ETF is the InfraCap MLP ETF (AMZA).
If you're looking for high yields, MLPs are often a good landing spot. But not every yield is created equal. AMZA is one of the most popular MLP ETFs out there mainly due to its extraordinary distribution yield of more than 23%. Before you go diving in thinking this product is going to solve all of your income needs, it's important to understand just how dangerous this yield is.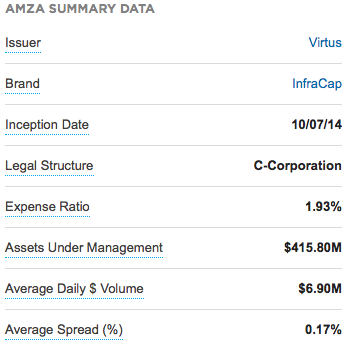 ETF Website: InfraCap MLP ETF
Unlike many MLP ETFs in this space, AMZA is actively managed with a goal of seeking to deliver high levels of current income. It typically holds around 25-35 names, but the top 10 holdings currently account for about 90% of assets.
The main issue with AMZA, however, is its distribution coverage. In other words, the portfolio doesn't generate nearly enough income to support the dividend yield. In order to make up the difference to pay out its monthly $0.11 distribution, it adds a return of capital distribution. Returns of capital of destructive to the fund's NAV and results in poor total return performance despite the high yield.
According to Morningstar, income has accounted for less than 40% of the total distribution in 2018. That number has been even worse in the past. AMZA is selling a significant portion of its assets in order to fund the distribution.

The other factor that makes AMZA dangerous is that it doesn't rely solely on investments in MLPs to generate income. It also uses leverage (typically around 20-30%) and options strategies to enhance the fund's yield. A lot of closed-end funds also use leverage and options to generate high yields, so the strategy is not unprecedented, but it does raise the risk level of a product that is already inherently risky due to the MLPs it invests in.
Perhaps just as concerning is the fact that the fund's managers seem to be increasing trading activity and option writing in order to increase the fund's income potential. As we've seen with recent distributions, income is still not coming close to covering the distribution. It's just increasing the overall risk profile of the fund. The distribution on AMZA was cut just over a year ago from a $0.52 quarterly dividend to an $0.11 monthly dividend. I'd expect the distribution to get cut again in the not-too-distant future.
While AMZA investors often focus on the yield, it's the total return that really tells the story. Since its inception at the end of 2014, AMZA has averaged an annual loss of 18% putting it well into the bottom quintile of the limited partnership category. It's also worth noting that AMZA is structured as a C-Corp, not a traditional 1940 Act fund. That means it pays taxes at the fund level and could see its deferred tax expense (and total cost of ownership) rise over time.
Recommendation: Avoid
The combination of poor performance, high cost, an unsustainable distribution yield and above average risk make this an easy call. AMZA is a case study in why it's important to look beyond the headline distribution yield number to find exactly what's going on under the hood. Unfortunately, this is an active strategy that has failed more often that not and investors would be better served going after a product, such as the Alerian MLP ETF (AMLP), with a better track record instead.
What do you think of AMZA? Comment down below!