ETF Watchlist: Week of May 8, 2017
Stocks had another good week. Tech stocks once again led the way with the Nasdaq posting a weekly gain of 0.9%. That pushes the sector's market-leading year-to-date gain to almost 14%. The Dow and S&P 500 posted similar, yet more modest, weekly gains and are now up 6-7% on the year.
The bulls remain firmly in control. The Q1 earnings season has delivered almost exactly what the markets had hoped it would. We're well over halfway through this season's numbers and so far companies have delivered year-over-year earnings growth of 13.5% and revenue growth of 7.6%. Moreover, nearly ¾ of earnings reports and ⅔ of revenue results have beaten analyst expectations.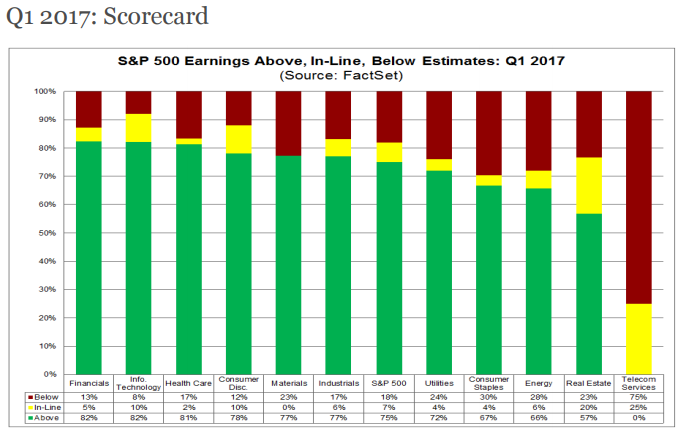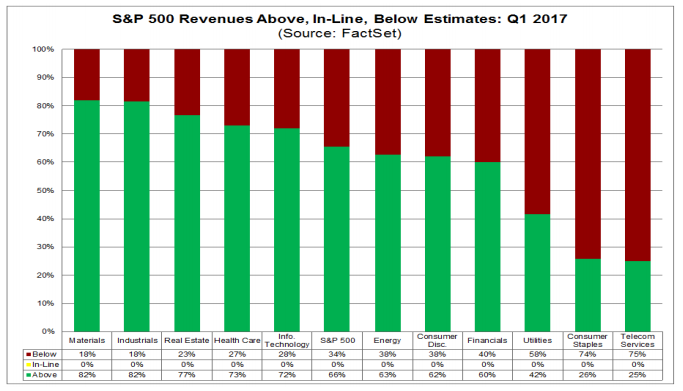 These are strong numbers almost any way you cut it. I argued recently that the next move up in equities needed to be fueled by actual earnings growth instead of multiple expansion or hopes of tax cuts and it looks like that is indeed what we're getting. This quarter's numbers have pushed the S&P 500's forward P/E ratio down to 17.8. That's still expensive by historical standards but not nearly as expensive as it's been for the last several quarters.
And, of course, I'd be remiss not to mention the American Health Care Act bill that narrowly made its way past the House this week and now heads over to the Senate. The unpopular bill (a Quinnipiac poll from back in March showed just 17% of Americans supported Trumpcare) failed to move the markets to any significant degree while healthcare lobbies begin gearing up for a fight. Continue to monitor healthcare and insurance stocks and ETFs because this fight is likely to get ugly and could have big consequences for these sectors.
While it doesn't make this week's list, keep an eye on the markets in France. As expected, Emmanuel Macron beat Marine Le Pen handily in the country's presidential election and removes a degree of political uncertainty that the markets generally cheer. The iShares MSCI France ETF (EWQ) gained 5% this past week as election results gained more certainty.
With earnings and political news expected to be a bit more muted this week, here are my four ETFs to keep an eye on in the coming week.
iShares Silver Trust ETF (SLV)
Let's hear it for the silver ETF that, on Friday, finally broke a 14 day losing streak that shaved nearly 12% off the value of the fund.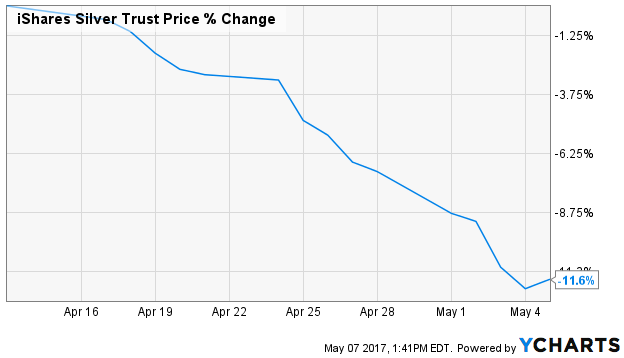 If you're a chart watcher, you wouldn't be surprised to find that the silver ETF is well into oversold territory and could be setting up for a brief relief rally. Absent of that (or a conflict escalation with North Korea, for example), there doesn't appear to be much of an impetus for the precious metal to move higher. Earnings growth and economic data have confirmed that the economy is in pretty good shape. It's worth keeping an eye but with volatility low, silver could be stuck in a bit of a rut.
Others: ETFS Physical Silver Shares ETF (SIVR), Ultra Silver ETF (AGQ), Global X Silver Miners ETF (SIL), PureFunds ISE Junior Silver (SILJ)
ForceShares Daily 4x U.S. Market Futures Long Fund ETF (UP) and ForceShares Daily 4x U.S. Market Futures Short Fund ETF (DOWN)
The SEC this past week approved the first ever quadruple leveraged ETFs for trading. As in, these funds aim to deliver four times the daily performance (or inverse) of the S&P 500. If the S&P 500 drops 1% in a trading day, the DOWN ETF would be expected to drop 4%.
I'm not sure if these funds are a good idea, but I can see how they're the next step since the 3x leveraged ETF market has been largely saturated (much of it by Direxion). It's interesting to note that these funds debut at a time when some of the largest volatility and leveraged funds have shed more than 25% of their assets amidst the low volatility environment. I'm sure there will be a market for these eventually but, keep in mind, these funds are risky, costly and are not meant to be held for more than a few trading days.
SPDR S&P 500 Buyback ETF (SPYB)
With the initial fight over healthcare in the rear view mirror for the immediate time being, it may be a good time to think about Trump's other proposed piece of major legislation - tax reform.
So far, all we've seen is a one-page outline that's pretty light on specifics ("grow the economy and create millions of jobs") and process ("the Trump administration will hold listening sessions with stakeholders"). But the two proposals we have known about for a while are the reduction of the business tax rate down to 15% and the one-time tax rate to repatriate cash held by corporations overseas. Each company will have its own plan for the extra cash but it's a near certainty that at least some of it will end up back in shareholders' pockets.
That means dividends and share buybacks. This fund looks at stocks that have executed share buybacks over the trailing 12 months, so it won't be investing in companies it thinks will make buybacks in the future. On the other hand, many buybacks take place over more than one year so this fund could easily still see the juice that a buyback can result in for shareholders.
Others: PowerShares Buyback Achievers ETF (PKW), AdvisorShares Wilshire Buyback ETF (TTFS)
iShares Dow Jones U.S. Healthcare Providers ETF (IHF)
The last fund is one that could be impacted by both healthcare reform and tax reform. The portfolio will obviously be impacted by what the ultimate healthcare law will look like, but the fund also holds several names that could benefit if Trump is able to push tax reform through.
CNBC notes that Aetna (AET), Anthem (ANTM) and UnitedHealth Group (UNH) are among the highest taxed companies and would benefit significantly from corporate tax reform. These three stocks also account for roughly 27% of this fund's total assets.