Low Volatility ETFs Holding Up Well In October
Low volatility ETFs and the stocks they hold are often considered safe havens in times of craziness in the markets. Nobody's cared much for low volatility and value stocks during the past couple of years, but given events over the past several trading days, it might be worth taking another look.
The month of October has been a rough, volatile ride for equities, but low volatility ETFs have mostly delivered on their objective.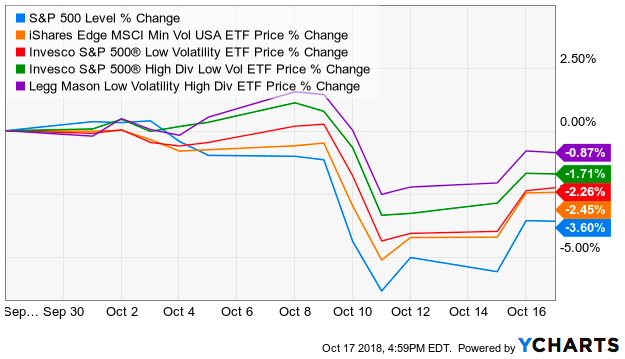 The biggest low volatility ETFs - the iShares Edge MSCI Minimum Volatility ETF (USMV), the Invesco S&P 500 Low Volatility ETF (SPLV), the Invesco S&P 500 High Dividend Low Volatility ETF (SPHD) and the Legg Mason Low Volatility High Dividend ETF (LVHD) - have all outperformed the S&P 500 (SPY) by at least 1% during October. LVHD has beaten the benchmark by nearly 3%.

Low volatility ETFs aren't sexy in the eyes of most investors. The tend to be pretty boring in nature - holdings like Procter & Gamble (PG), Johnson & Johnson (JNJ) and AT&T (T) aren't going to get anybody excited - but they do tend to offer some downside protection in volatile and bearish market environments. Some even offer attractive dividend yields (SPHD has a yield of more than 4.2% right now) while you wait.
As the Fed continues to hint at further rate hikes, taking a more defensive positioning might not be a bad idea.
What do you think? Is it time to start overweighting in low volatility and value stocks? Comment down below.