ETF of the Day: USAA MSCI USA Value Momentum Blend Index ETF (ULVM)
With more than 2,000 U.S.-listed ETFs available to investors, it's easy to get confused and overwhelmed with the sheer number of choices. And with so many options, how do you know what's good and what isn't? In this space, I'm going to evaluate and rate a popular ETF to help you make smarter investing decisions.
If you want to receive these reports when they're published, click that "Follow" button on my profile. Do you have an ETF you want profiled? Comment down below!
Today's ETF is the USAA MSCI USA Value Momentum Blend Index ETF (ULVM).
Factor investing has become the hot trend in 2018 as investors search for ways to limit volatility and stay ahead of a market that's been bouncing around for much of the past couple months. Two of the most historically well-proven factors are value and momentum, so what's not to like about an ETF that combines the two into one product?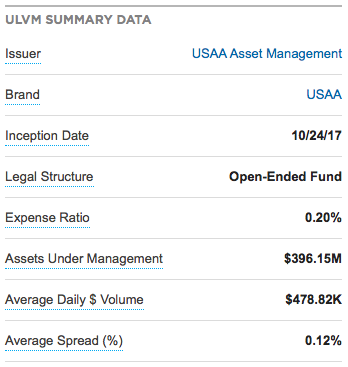 ETF Website: USAA MSCI USA Value Momentum Blend Index ETF
ULVM targets mainly large- and mid-cap stocks that score highly in both value and momentum screens. The value factor is determined by looking at a stock's forward P/E, P/B ratio and enterprise value to operating cash flow ratios. The momentum factor is evaluated looking at 6- and 12-month price movements. Scores are developed for both factors with stocks earning the highest composite scores making it into the portfolio. Qualifying components are then weighted for volatility with low volatility stocks receiving greater weight. In essence, ULVM is based on three different factors although the name is the "Value Momentum Blend Index ETF".
According to a study by MSCI, value and momentum rate as the two factors that have done the best job of generating superior returns over the last four decades worldwide.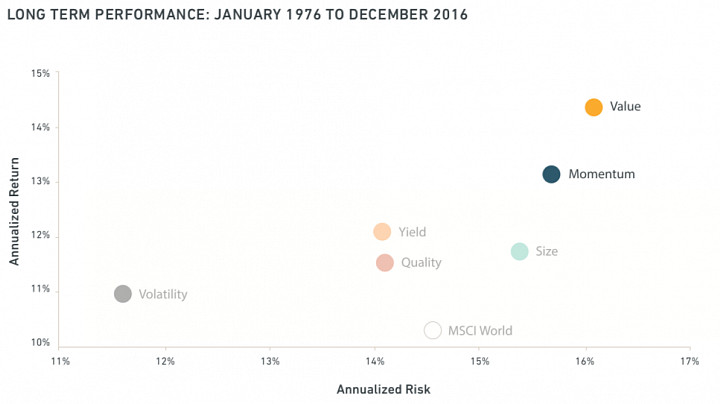 As you can see in the graph, those returns have come with somewhat higher risk than other factors, such as yield and quality, but both have delivered far superior risk-adjusted returns compared to the broad MSCI World index. Pairing these two factors together should be able to produce above average returns long-term, while the volatility-weighted nature of the portfolio should help to reduce overall risk.
The ETF itself has only been around for about a year, but we can take a look at the long-term performance of its underlying index to see how well the strategy has done.

The long-term picture shows that a value/momentum blend has produced a Sharpe ratio, a measure of risk-adjusted returns, of 0.56 compared to a 0.34 ratio for the MSCI USA index. Further, the Value Momentum Blend index has managed to beat the MSCI USA index by more than 3.3% annually since 1999 with comparable levels of risk.
Over the past few years, value/momentum has, not surprisingly, failed to keep up with the broader market as investors have largely shunned value stocks, but the strategy appears to be a proven winner over time. Dividend investors might not dig it as the index's 1.8% yield (which becomes a 1.6% yield for ULVM after a 0.2% expense ratio) is no better than the S&P 500 yield.
Recommendation: Consider buying
A lot of factor ETFs become less attractive since high fees tend to negate the benefits of the strategy itself. ULVM's 0.20% expense ratio is quite reasonable and makes its value/momentum strategy much more viable. While history has shown us that these types of factor strategies tend to ebb and flow in the short-term, combining value and momentum together can be very lucrative if held over the long-term.
What do you think of ULVM? Comment down below!